Procurement management is an essential step in your supply chain, so it's important to understand what it means, how far it reaches, and how to manage procurement while running a business.
What Exactly is Procurement?
Procurement is the process of obtaining goods and services necessary for an organization to operate.
It's best not to confuse it with purchasing, which is a step that falls under the procurement window. We will define that term separately in this glossary.
Steps in the procurement process include purchasing planning, vetting suitable suppliers, negotiating prices, and disposing of waste properly.
However, there is not a one-size-fits-all approach to procurement for every organization. Business and government bodies aim to follow similar procurement principles, but the nuances of each may vary.
Principles of Procurement Management
Whether an organization works in the public or private sector will determine what procurement principles it prioritizes.
In the Public Sector, the principles of the procurement management system may outline the following key traits.
Transparency
Public agencies benefit from publishing open paper trail audits to ensure community support. This principle does not apply to private sectors as much because the law does not require them to publish everything.
Integrity
Integrity involves ensuring both bidders and procurement managers negotiate on clear, mutually understood terms.
Economy
Ensuring the organization is obtaining value for its money and not using resources responsibly.
Openness
Openness means that competition is fair, with the organization not giving a unique advantage to one vendor over another.
Fairness
The procurement management process must be fair to stakeholders by considering any appeals they have during contract negotiations.
Competition
Organizations should encourage many vendors to bid because it enables competitively priced contracts.
Accountability
In the public sector, constituents hold government bodies accountable for irresponsible procurement. In the private sector, procurement managers hold suppliers or other stakeholders responsible.
Pillars of Procurement Management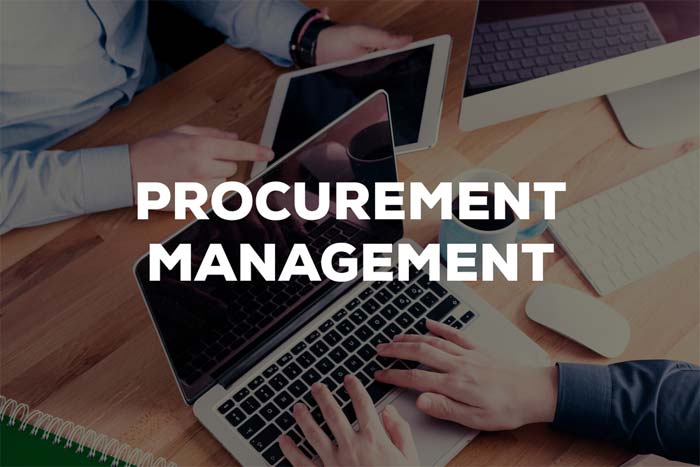 Many use the terms Pillars of Procurement and Principles of Procurement interchangeably. Additionally, individual businesses often publish their own Pillars of Procurement.
This trend means that there's no single way to define the critical pillars of procurement. However, the principles below will serve as a general guide that most organizations cover, whether directly or implicitly.
People and Skills
Ensure that staff feels adequately trained to manage research, purchases, and communications with vendors. Additionally, form a positive relationship with the people in the contract management by maintaining open, consistent communication. Without motivated people, both the business and relationship will suffer.
Finances
Calculate procurement risks appropriately with automated metrics and Key Performance Indicators (KPIs) suited to your organizational needs. Doing so will support a reliable reputation and keep the organization afloat.
Customers
Companies depend on an efficient procurement process to maintain customer trust. However, inefficient procurement management systems can lead to delivery delays, low-quality services, or revenue loss.
Technology and Processes
Automate the procurement management process where necessary, and regularly review your process efficiency. Find procurement management software that helps an organization work smart, not harder.
What is the Difference between Procurement and Purchasing?
Although people use these terms interchangeably, there is a difference between procurement and purchasing.
Procurement is an overarching, strategic process.
It involves lengthy steps like researching and listing potential suppliers and building relationships with them. Procurement management team members also need to negotiate contracts and perform regular quality standards monitoring.
Purchasing is a step within the procurement cycle, but they are not the same. Purchasing, or buying, is the step of making an official order and paying vendors. Think of it as purchasing is a seed within the procurement apple.
Types of Procurement
There are many different types of procurement. Here, we'll cover a shortlist of four guiding procurement terms.
Public Procurement
If a non-profit or government organization is doing the process, it is public procurement. For example, acquiring buildings to serve as public school infrastructure is public procurement.
Private Procurement
If a for-profit organization engages in this process, it's private procurement. An animation company that outlines a plan to acquire new procurement management software for improved animation is engaging in private procurement.
Direct Procurement
Direct procurement is concerned with goods or services that drive performance and competition in an organization. For example, acquiring new, fresh food ingredients for better sandwiches in a cafe is direct procurement.
Indirect Procurement
Indirect procurement entails those goods and services that drive day-to-day maintenance. To continue the sandwich shop example, this could look like securing a weekly cleaning service.
Procurement Cycle and Management
For successful procurement management system, companies might engage in something called Project Management Process Groups.
Some people also call these the 5 phases of a project life cycle. Both are a way to summarize the key, overarching steps a manager will maintain to carry procurement correctly.
1. Identifying Needs and Research
Needs research is the first and one of the most crucial steps for the procurement lifecycle. The project manager and procurement teams must analyze what resources the business needs to function. It should also account for budget, delivery time requirements, risks, dependencies, and transitioning into the new resource.
If a team doesn't adequately research what their departments need to function or perform, they can make errors like ordering too many unused resources. In the long run, the lack of research costs the company time and money.
2. Planning
Before an organization allows vendors to apply, it should determine how the sourcing process will go. In a private procurement management system, businesses have the option to create an auction tender.
An auction tender allows suppliers to submit competitive offers to work with your organization. Alternatively, if one has found ideal partners during research, it can also initiate direct negotiations with the approved supplier.
Procurement management should also consider transition planning for internal employees. How will the company divide the new resource or service within the organization?
3. Supplier Selection / Request For Information (RFI)
If a company takes the route of an auction tender, they can submit an RFI to the public.
An RFI document streamlines the process of identifying potential partners. Vendors and suppliers fill in the RFI, and companies can use their answers to determine if they meet each other's business operations requirements.
It's crucial to keep consistent communication between vendors and stakeholders during this stage of the procurement process. How the team will coordinate meetings, deliver proposals, and respond to RFIs are all necessary so that everyone feels fairly represented.
4. Request for Quotation (RFQ)
Once an organization has received RFIs, it should perform a tender evaluation. Look at the different RFIs submitted to compare additional costs, quality details, and reputation.
After they've identified their preferred suppliers, they can submit a Request for Quotation (RFQ). The RFQ further outlines what products or consulting services are needed, in what volumes, and on what timescales. It facilitates the initiation of negotiating to develop contract management for a positive business relationship.
5. Contract Arrangement
Part of what separates the procurement cycle from purchasing is that it may entail a long-term business relationship. To ensure both parties understand each other's expectations, the organization and supplier should enter into contract negotiations.
Working with procurement professionals can help them develop a fixed price contract that addresses future conflicts or gaps before they occur.
6. Closing
When the organization, vendors, and all other necessary stakeholders have signed the contract, the procurement relationship can begin. A company may decide to hold a short celebration to increase office rapport, depending on the procurement cycle's nature.
The work is not finished at this stage, however. Organizations benefit from keeping a document of key performance indicators (KPIs) to determine if the partnership is efficient in the long run.
You can analyze KPIs by viewing if all the vendors' deliveries arrived on time within the past three months, for example. This process helps determine if an organization should continue or amend its contract.
7. Ongoing Maintenance
Maintaining secure paper-based processes, invoices, delivery dates, and other communications between the organization and vendors is crucial. Doing so ensures that it's easy for them to analyze where their money is going and if they see a return on investment.
If a frequent conflict arises, both parties may find the need to renegotiate the contract. So, it can be beneficial for every party to have equal access to the agreement for fair make or buy analysis.
Total Procurement Cycle Time
The entire procurement process may take between 4 to 8 weeks for a business to complete.
That schedule may vary according to the scale of resources needed, but most can expect to devote at least a month to planning, vetting, and negotiating. Contract negotiation alone can require a week or more of meetings.
Who is a Buyer in Procurement?
In the procurement management process, the company submitting the RFI is the buyer.
The procurement manager may take on the buyer's role, submitting official orders and fulfilling invoices. Other times, there will be an employee with the Procurement Purchaser role who oversees those transactions. If an organization has the latter format, the procurement team will often focus more on research, procurement strategy, and contracting.
Keeping the buyer role separate from the procurement manager can be beneficial as it allows the buyer to carry out more product-focused research.
What is a Contract in Procurement Management?
A procurement contract is an agreement between the buyer (whether public or private sector) and the seller (of goods or services) to purchase goods for them in exchange for payment transactions.
It's necessary to continue a relationship where both parties understand their exact expectations. The contact may cover expected delivery dates, detailed fixed-price lists, conditions for delivery, or other legal necessities that save time from asking questions in each order.
A firm contract will help both parties continue a positive relationship as long as it covers all the gaps for misunderstandings.
What is an Example of Procurement Management?
Although there are many extra niche types of procurement, most of them will fall under direct or indirect procurement. Below is an example of each:
Direct Procurement Example
A private company that sells cookware begins the procurement process to get raw steel. Then, they hire labor to fashion the steel into pans and pots.
This example is a form of direct procurement because it directly affects what the final customer will experience.
Indirect Procurement Example
An organization initiates the procurement process to obtain new computers and office supplies. These computers allow them to maintain accounting records, respond to emails, and schedule business meetings.
In this case, the customer doesn't feel any direct benefit from the computer. However, the employees do because they're able to complete the tasks of their role. Since it only affects day to day maintenance, this is indirect procurement.
Common Procurement Risk
There are several common risks that most organizations will face during the procurement process. This list covers the most common ones, alongside actionable steps an organization can take the optimal risk for procurement management.
Fraud and Corruption
Procurement fraud schemes may look like falsified records or embezzlement.
To minimize the chances of this, have a team that cross-checks documents and identifies missing details in all the paperwork. This can help an organization catch red flags before the contract stage.
Disorganized Procurement Management
A procurement process that doesn't streamline research, vetting, and contracting can cause delivery and payment delays.
Companies can use cloud-based, centralized procurement management software like SAP that keeps track of all upcoming deadlines and complete deliveries to mitigate this.
Incorrect Needs Analysis
During the research, some employees will say what they need. But their actions may speak differently, showing they prioritize a different resource in their day-to-day work. Pay attention to this kind of hard data to avoid ordering too much or too little.
This stage of the procurement cycle also benefits from cloud software programs. Some may have research tools built in to analyze how the company is using its resources.
Contract Ambiguity
Procurement contracts must cover potential conflicts before they occur for speedy resolution.
A centralized library that contains all files for partners to access can keep everyone on the same page. Additionally, templates are helpful for speedy editing of the contracts when amendments are necessary.
SAP in Procurement
SAP stands for Systems, Applications, and Products in Data Processing. It's a software company that provides a cloud-based solution for streamlining procurement, among others.
This software can assist companies in tracking the supply chain, identifying shortages, and tracking vendor consistency.
Other popular procurement software includes Procurify, Oracle, Jaggaer, and Coupa solutions.
According to Accenture Research, using tools like SAP in procurement reduced order processing time by 83% and improved productivity by 60%.
Therefore, you may want to consider finding software at the first stage of the procurement process. It can make the next stages of procurement, such as documentation and contracting, easier for management to use.