Read on to get enlightened on quality in supply chain management. In today's economy of cut-throat market competition, businesses are innovating mechanisms to raise their products' quality. For a business to grow, it has to adopt a customer-centric approach.
As long as the consumers are satisfied with quality standards, the organization will thrive. Therefore, it is of paramount importance to adopt effective quality assurance methods in supply chain management.
What is Quality Assurance?
Quality assurance is the process of ensuring an organization is meeting its quality requirement when producing products or offering services. Subsequently, it involves monitoring activities, planning, and fulfilling the plans.
Moreover, it encompasses various procedures and processes which can systematically monitor multiple aspects of a facility or service. It uses various forms of assessment and audit to detect, offer solutions and establish requirements and standards.
The Importance of Total Quality Management in Supply Chain Management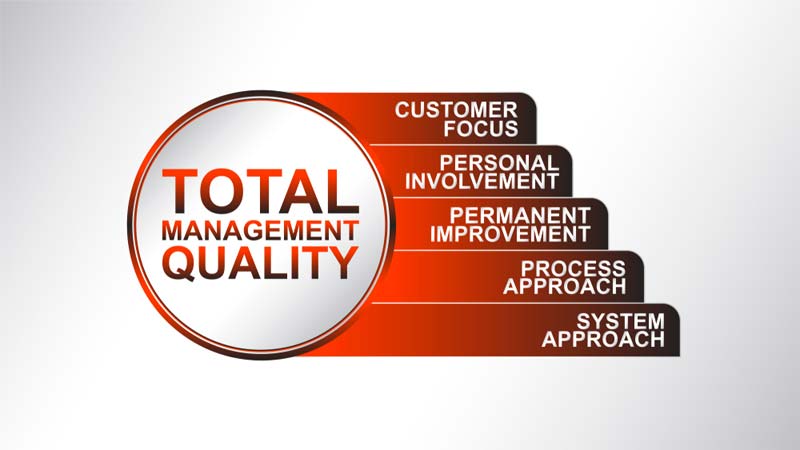 Total Quality Management (TQM) aims to detect and eliminate errors, especially in manufacturing, to enhance customer experience. The following are reasons why Total Quality Management is essential in supply chain management.
Help Identify Scrap and Defects
The presence of defects in the raw materials will adversely affect the finished product, ultimately making the entire production inefficient. Moreover, low-quality raw materials will require extra refining. As a result, they will increase costs spent by the company.
Nevertheless, if working with a TQM expert, they monitor the entire supply chain, consequently ensuring the raw materials and the manufacturing process meets the company's standards.
Limit External Failures
Poor quality supply chains produce low-quality products. In such a case, products will suffer from damages during transportation or shipping.
When consumers are not satisfied with the quality of the brand, they will cease being customers. But, if a company adopts TQM, it ensures the entire supply chain is under control. Ultimately, protecting the organization's reputation and fosters positive relationships with the supplier.
Ensures Appropriate Conduction of Inspections
In most cases, companies encounter wastage in the manufacturing process. Although inspections are costly, it is the only effective mechanism to ensure that the TQM standards are up to the mark.
TQM ensures proper reviews on all stages of the supply chain. Implementing such strategies helps the organization assess any fluctuating preferences of customers.
Limit Emission of Toxic Materials
Currently, manufacturing industries use hazardous materials. Such materials can harm the employees and environment if disposed of incorrectly. TQM ensures the organization operates within the standard codes. As a result, the enterprise avoids lawsuits and penalties.
Contributes to the Growth of the Organization
Proper Total quality management ensures the employees have the necessary skills to offer good services and produce quality products. As long as the organization's output is quality, they maintain their customers and attract more, ultimately leading to the business's growth.
To optimize supply chain processes, he determines which local or global suppliers to use, what transport methods to use, how inventories should be managed, etc. In addition, the supply chain manager needs to plan the supply chains from supplier to customer, taking into account risks such as disruptions in supply and demand.
The Relationship Between Quality Management and Supply Chain Management
Quality management practices that result in reducing process variance affect the supply chain performance directly. If the process variance reduces, there will be a decrease in the defective unit and increased quality units moving through the organization's supply chain. As long as the supply chain has few faulty units, it will improve delivery dependability.
Quality improvement has a positive impact on the supply chain due to reduced rework and cycle times. Moreover, if there are fewer defective units, the supply chain will move faster.
As a result, there will be an increase in the goods produced. The suppliers and buyers have a close relationship in terms of quality improvement. Also, excellent and prompt supplier feedback assists in offering quality inputs in the organization's supply system.
How Can Quality Lead to Supply Chain Improvement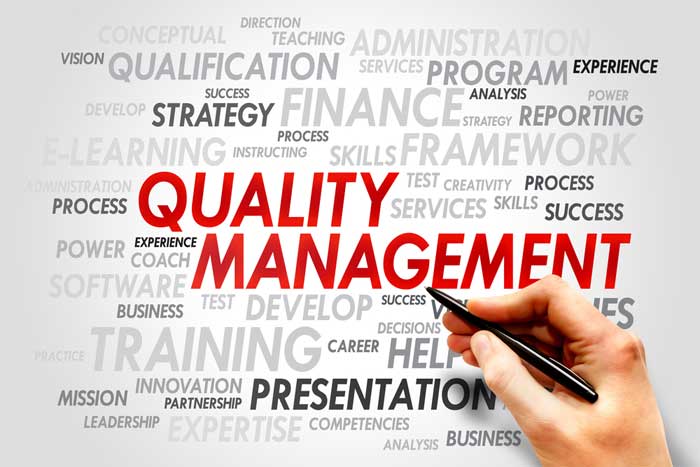 Organizations that control their suppliers directly benefit from improved quality. Consequently, companies need to adopt standard minimum quality criteria.
Such a law forces secondary suppliers and partners to strive to meet the organization's requirements. Quality management experts outline specific process guidelines that every supplier should comply with to meet the organization's quality requirements.
In order to avoid customer complaints, companies need to develop a quality control system. The objections of customers must also be handled promptly and professionally. When employees respond to complaints, they are aware of quality controls.
A supplier performance analysis can help to better understand supplier quality. The analysis will determine how well a supplier is performing in key supply chain processes such as internal audits, corrective action plans, problem-solving, training, and inspections of the quality system.
Quality Control Vs. Quality Assurance
As highlighted earlier, quality control is activities incorporated to ensure product quality. Such activities identify defects that may be present during the production of the products.
On the flip side, quality assurance (QA) ensures that quality will be maintained while producing products. It is a proactive process that focuses on preventing defects. But quality control (QC) is a reactive process that identifies and corrects defects in the final products.
The goal of Quality Assurance is to improve the development and control the occurrence of defects in the process. At the same time, Quality Control works on identifying the weakness after the development of the product.
Both QA and QC work on preventing defects before the products are released. But in QA, everyone in the organization will be involved in the process, whereas in Quality Control, there will be a specific team responsible for testing defects in the products.
QA will establish an effective quality management system that will access the operation's audits. At the same time, quality control will find and do away with the core source of the quality problem to meet the customer's requirements continually.
Continuous Quality Improvement (CQI)
CQI is a methodology for making products and services better is achieved through continuous improvement. CQI is a way to make process improvements or product enhancements by analyzing the entire manufacturing or service delivery system. When a supplier implements CQI, it is an opportunity for both supplier and customer to meet the highest level of quality.
How to Execute a Future-Focused Supply Chain Quality Management Strategy
Enterprises can build a resilient supply chain quality management strategy by doing the following.
Building an Agile Supply Chain
The world has numerous uncertainties. Consequently, a resilient supply chain quality management strategy is a good move. Rather than focusing on cost reduction alone, enterprises should focus on adaptability and risk reduction.
Agile quality management strategies go beyond cost savings. Capacity planning also factors into the ROI equation. This metric relates to cost savings by offsetting production costs based on how much material a company has available. Businesses can reduce costs on production with supply chain capacity planning.
Therefore, they should adopt more flexible approaches such as close-to-home suppliers. Moreover, organizations should consider realigning their supply chain and adopt new technologies.
Plan Continuously
In a volatile world, businesses should keep thinking of mechanisms they can use to enhance their operational planning and sales. Customer demands are likely to change. Therefore, enterprises should update their forecast continuously to adjust to unforeseen changes.
Invest in Innovations
An organization should not be adamant about inventing new products. Due to global disruptions, the market sectors are changing. For instance, due to the emergence of COVID 19, car manufacturers are considering building ventilators. Such innovations will help the enterprise maintain its customers and attract more in the future.
Come up With a Sustainable Process
Now more than ever, society and the government are focused on maintaining a sustainable environment. The state keeps on implementing laws to enhance suitability.
If a company wants to remain in business, it should establish supply chains with principles that promote a healthy and sustainable environment.
Role of Technology/Software to Achieve Supply Chain Quality
For organizations to keep up with their customer demands, they have to keep up with the current technological advancement. There is numerous supply chain software designed to streamline their supply chain efficiently and holistically. Typical ones include:
Forecasting and planning software: Such technologies assist the company in optimizing inventory levels or predicting the production capacities.
Product design software: These tools can produce visuals of products and their interior components before manufacturing.
Product data management: It helps in the management of product data and maintains assets distributed for sales, internal purposes, and marketing.
Manufacturing execution software: It monitors and manages the entire manufacturing process.
The Role of ERP in Supply Chain Management
The core purpose of an enterprise resource planning (ERP) system is to support the company's supply chain management strategy and operations. It gives visibility to everything in the supply chain from purchase orders, production, and delivery.
It provides a central repository for your data, including customer and supplier information. It can also integrate with other systems and applications and be customized, and do more than just track inventory and order fulfillment. It can be used to forecast demand, optimize stock levels, and provide performance metrics.
Role of Supply Chain Managers in Supply Chain Processes
A supply chain manager is required to make sure that the replenishment and ordering of products and services for a company are done efficiently. By monitoring shipment times and prices, he helps to ensure quality items are delivered to customers on time.
He needs to optimize the supply chain processes by making decisions such as determining which local or global suppliers should be used, what transport methods should be used, how inventories should be managed, etc.
The supply chain manager needs to plan the supply chains from supplier to customer, taking into account risks such as disruptions in supply and demand.
How to Measure the Effectiveness of Your Innovation Efforts
Everything is hinged on innovation, making it hard for businesses to manage their innovation. Considering that innovation is among the intangible assets, it is good to measure its success. You can measure the effectiveness of your innovation efforts by:
Numbering your projects: These include the projects your enterprise has successfully developed and completed.
Check whether there is an enhancement in employee productivity: If the employees are more productive and happier, then the innovation management efforts are effective.
Rate the customer turnovers and satisfaction: Turnovers can drain a business. In successful innovation, there will be a high rate of customer satisfaction.
Growing profit: Increase in net income is a clear indication that the current innovation program is effective.
How to Achieve Supply Chain Quality
Enterprises can achieve supply chain quality by doing the following:
Linking performance to organization strategy: There should be a connection between the business unit strategy and the supply chain strategy.
Maintain the company's culture: This should be done even when adopting new technology or employing new inventions.
Consider the customer in all supply chain perspectives: The suppliers should always focus on satisfying the customers.
Analyze data in all stages to determine efficiency: Analyzing data will result in making better decisions.
Focus on running a no-fault environment: Companies should establish an environment where employees are free to raise suggestions or communicate on issues. Such an environment enhances employee satisfaction.
Keep up with digital inventions to improve quality: In the current times, digital advances heavily affect the quality of end products. Enterprises should have an open mind to adopt new technology that can assure high quality.
Quality in Supply Chain Management
Quality is an essential factor when addressing the relationship between suppliers and consumers. Whenever quality management endorses improvement measures, it directly affects the supply chain performance. If there is continuous quality management improvement, there is also constant improvement in the supply chain.